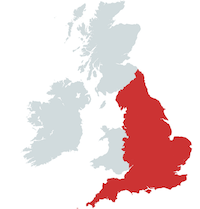 Map by mapchart.net - Some rights reserved.


Location
Burgh Castle, Norfolk, England

Description
Burgh Castle is located in the village of Burgh Castle in Norfolk (about twenty three miles south east of Norwich). The castle was a Norman earthwork motte and bailey fortress, built within the stone walls of a 3rd century Roman fort. Three of the four sides of the large rectangular Roman fort are still standing (the fourth side fell into Breydon Water, the adjoining estuary). The walls have large rounded bastions at the corners and at intervals along the walls. The gate is in the middle of the east wall.

The Norman castle had a large oval motte with a surrounding ditch and was positioned in the south west corner of the Roman fort. The motte was leveled in the 18th century and now only fragments of the earthworks remain. The site is owned by English Heritage and is open to the public.