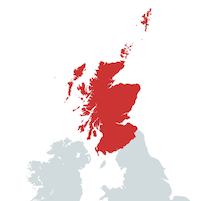 Map by mapchart.net - Some rights reserved.


Location
near Scalloway, Shetland Islands, Scotland

Description
Scalloway Castle is located in Scalloway, Shetland. The tower house has been restored, but the surrounding walls and buildings have gone. The tower has corbelling on the corners. Inside, the ground floor has a vaulted store, now used as an exhibition area. The kitchen with a well can also be seen. The tower has an impressive staircase with wide steps and square landings leading up to the hall on the first floor. There is no roof left to the hall. Above the hall would have been another two floors for accommodation. A spiral staircase provides access to rooms in the south wing of the castle, and one of these rooms is open to visitors.

History
Scalloway Castle was built from 1599 by Patrick Stewart, 2nd Earl of Orkney. Scalloway Castle was designed by Andrew Crawford who also built Muness Castle for Laurence Bruce. Patrick Stewart had many enemies and ended up being forced out of the castle by a royal army under the Earl of Caithness. Patrick and his son Robert were later executed. After the death of Patrick Stewart, Scalloway Castle was used as the administrative centre for Shetland. It was later used as a barracks for Oliver Cromwell's troops in the 1650s. In the early 18th century the administrative centre for Shetland moved to Lerwick, and Scalloway Castle went into decline. In 1754 much of the stone from the lesser buildings that surrounded the tower house were used to build a nearby mansion. In 1908 the castle was placed in the care of the State, and it is now managed by Historic Scotland.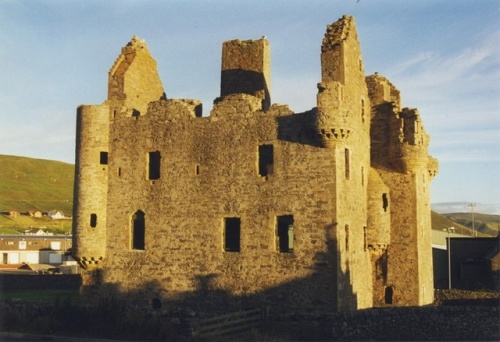 Scalloway Castle, built by Patrick Stewart, 2nd Earl of Orkney in 1599

Photograph by Tom Pennington. Some rights reserved. (view image details)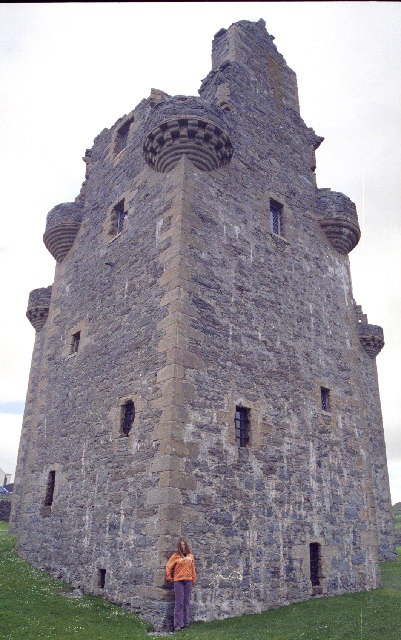 Scalloway Castle. Earl Patrick of Orkney & Shetland built this, very similar to his palace in Kirkwall (Orkney) but rearranged to be narrower and taller, in the late 1500s. One of only 2 castles in Shetland - Muness, on Unst, being the other.

Photograph by David Wyatt. Some rights reserved. (view image details)


© OpenStreetMap contributors licensed as CC BY-SA