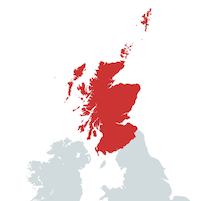 Map by mapchart.net - Some rights reserved.


Location
Isle of Harris, Western Isles, Scotland

Description
Ammhuinsuihde Castle is located on the Isle of Harris in north-western Scotland and overlooks the sea.

The castle is fully in tact, and somewhat resembles a country house, with three storeys, sharply angled roofs and many rectangular windows. It has many chimneys and a circular tower. It has vast views of the sea from many of its towers. The grounds span 55, 000 acres and include lochs, glens and beaches.

Facilities
Ammhuinsuihde is available for use for wedding ceremonies, accommodation and shooting. It has several lavishly decorated suites, and is fully catered by castle staff.

History
The owners of the Isle of Harris originally built Ardvourlie Castle on the Ammhuinsuihde estate in 1863 as to serve as a hunting lodge, in addition to their home. However In 1867, Fincastle was built on the same estate because the owner, Charles the 7th of Dunmore, did not think Ardvourlie suitable for his sporting although the family never lived in the castle. Fincastle's name was eventually changed to Ammhuinsuihde, which means 'sitting by the river'. An extra wing was added later, which contributed to the Dunmores' bankruptcy that forced them off the estate. Sir Edward Scott took over the still-unfinished castle in 1869. The castle was then sold to Lord Leverhulme in 1919, and bought back by Scott in 1925 upon Leverhulme's death. Ammhuinsuihde changed hands several more times between 1925 and 2003, and it is now owned by Ian Scarr-Hall who runs the castle as a venue for weddings, shooting and accommodation.