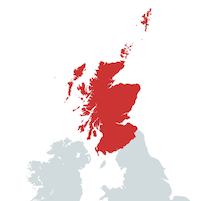 Map by mapchart.net - Some rights reserved.


Location
Isle of Barra, Western Isles, Scotland

Description
Kisimul Castle can be reached by taking a small boat from Castlebay (five minute trip, weather permitting). It is recommended visiting with a helper due to the boat crossing, difficult terrain and various levels within the castle.

Kisimul Castle is a small medieval castle located in the centre of Castlebay on the island of Barra in the Outer Hebrides, Scotland. It is known locally as the "Castle in the Sea". Kisimul Castle is the only significant surviving medieval castle in the Western Isles. Construction of Kisimul Castle was started by Niall of Barra around 1039, making it one of the oldest castles in Scotland. Since that time, Kisimul has been the stronghold of Clan MacNeil. It is built on a rocky outcrop in the bay, completely surrounded by water. Many of the buildings within the curtain wall are still standing. The castle is open to the public every day from April to September. Much of the interior of the castle is accessible, although some of the rooms are still used by the MacNeil family. There are magnificent views of Castlebay from the walkway around the curtain wall.

History
The earliest structures standing today probably date from the early 15th century. The original design was a three story tower house surrounded by a curtain wall. Inside the wall a number of other structures were built, including the hall that still stands, and the chapel. In the late 15th century or early 16th century a range was built adjoining the tower house, and the curtain wall was raised. By the mid 18th century the castle was abandoned, and some time later was gutted by fire. In 1838 the MacNeils became bankrupt and were forced to sell Barra to Colonel Gordon of Cluny. In 1937 the American architect Robert MacNeil purchased most of the Barra estate including Kisimul Castle. He started restoring the castle, and restoration was completed in 1970. In 2001 the castle was leased by the chief of Clan MacNeil to Historic Scotland.