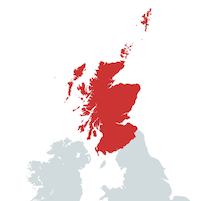 Map by mapchart.net - Some rights reserved.


Location
Isle of South Uist, Western Isles, Scotland

Description
Ormacleit Castle (also spelled Ormiclate or Ormaclett) is located on South Uist in the Western Isles of Scotland. The building is a ruined mansion house rather than a defensive structure. It was a T-plan, two-storey house which faced north onto a courtyard. The ruin is a Scheduled Monument and a category B listed building. The castle is on privately property, the ruins are unstable and not open to visitors.

History
Ormacleit Castle was built in the early 18th century by Allan Macdonald, chief of Clanranald, and was completed in 1708. Macdonald was killed at the Battle of Sheriffmuir in November 1715, and Ormacleit Castle burned down on the eve of that battle. After the fire, the Clanranald seat moved to Nunton on Benbecula, and Ormacleit was abandoned. That must make Ormacleit Castle one of the shortest lived castles in Scotland. The first structure at Ormacleit was built in the 16th century by Macdonald, 9th chief of Clanranald. Parts of this building may be incorporated into the present house.